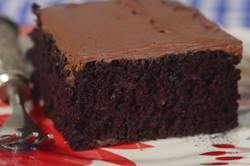 My dad's favorite cake is banana cake. When I was young, I didn't like it, but now I really love it! Banana cake is so moist and flavorful . . . and bananas are so very good for you! I was going to share a banana cake recipe with you
today and then I found a recipe for chocolate banana cake!!!! What could be more enjoyable? So, if you are looking for a dessert to make for your family, take a look at this recipe for chocolate banana cake.
Ingredients -
1 1/2 cups sugar

1 3/4 cups flour

3/4 cup cocoa powder

1 1/2 teaspoons baking powder

1 1/2 teaspoon baking soda

1/2 teaspoon salt

2 large eggs

1 cup mashed banana - about three bananas

1 cup warm water

1/2 cup milk

1/2 cup oil

1 1/2 teaspoon vanilla
grease a 13x9" pan

preheat oven to 350 degrees

mix flour, sugar, baking powder, baking soda, cocoa and salt and set aside

in another bowl whisk eggs, banana, water, milk, oil and vanilla and beat on low until combined

add dry ingredients and mix until combined - batter will be quite thin

pour batter evenly into pan

bake for 35 to 40 minutes or until a toothpick comes out clean

cool completely

frost with a butter frosting - 3/4 cup butter, 2 lbs powdered sugar, 1/3 cup milk and 2 teaspoons vanilla - beat butter until smooth, add 2 cups sugar then add milk, vanilla and remaining sugar
As you make this cake with your grandchildren, talk with them about how God created the ingredients we use to make banana cake. Ask them what they would have named the banana if they were the one to name it and ask them what color they would have made it as well! Lead them in thanking God for creating such wonderful things as bananas and chocolate! Have fun and enjoy your cake!