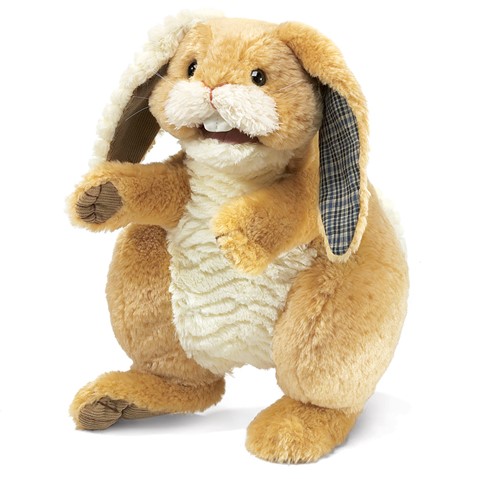 I love Folkmanis puppets! They are clearly committed to creating puppets with personality which show a dedication and attention to detail and quality as well as which are
adorable,
plush and full of so much character! Folkmanis
puppets are not only great puppets, but they are plush friends which children will love for years!
I always look forward to finding out about the new members of the Folkmanis puppet "family" and am so happy for the opportunity to share them with you over the coming months. Today I want to let you know about an adorable, plush, patchwork rabbit puppet . . . and give one away as well!
The Patchwork Rabbit Puppet is 11 inches long, 7 inches wide and 12 inches tall - the perfect size to use in a classroom of children or to give to a child as a gift which is sure to be hugged, loved and cuddled! I love the design of this Rabbit . . . from its mismatched paw bottoms to its patchwork, differently patterned floppy ears . . . this is a rabbit to love! As Folkmanis says, "
This homespun PATCHWORK RABBIT is as scrappy as they come. With lots of personality and differently textured and patterned fabrics like a vintage quilt, this rabbit is great for snuggling, storytelling or bringing homey comfort on a long trip." Great as a gift for a birthday, or keep it in mind for Christmas as any child who receives this rabbit is sure to love it!
As I said, I'm very happy for the opportunity to give one Patchwork Rabbit Puppet away (USA only)!
If you would like to be included in this give-away - which will be on September 21, 2012 - please comment below to let me know if you have followed on Google Friend Connect, followed by liking on facebook with the tab in the "Find us on Facebook" box ON THE BLOG (not just liking the post) and/or have followed grandma's cookie jar by email. For each of these which you have done you will receive one entry. In addition, if you "share" this post, you'll receive an additional entry (please let me know if you share). This will help me be able to draw names from among people who would like to win this puppet and it gives you several ways to enter the give-away! Thank you for reading grandma's cookie jar and for sharing it with the people you know!