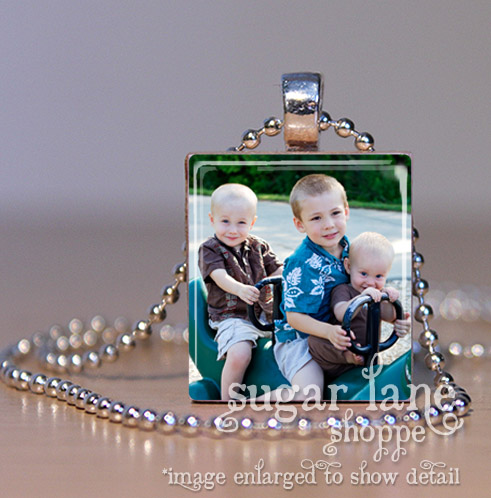 I have to share with you something I found on Esty which I ordered for myself (and am not
waiting for Christmas to wear!!!) and ordered for my daughter-in-law (and again, did
not wait until Christmas to give it to her, which was my original intent)!
I have a beautiful silver necklace engraved with a photo of my grandsons which my daughter gave me for my birthday - and I love it! So, I thought it would be fun to get another photo necklace with a color photo of my three grandsons which we recently had taken. I looked and looked for a place to order the necklace, but could not find exactly what I wanted. Until I found sugar lane on Esty!
This necklace is actually made on the back of a Scrabble tile! It includes a silver ball chain, but I have also ordered blue leather necklaces to put with the charms. sugar lane made my necklaces as soon as I ordered them - it only took a few days from start to when I had them in my hand! They turned out so perfectly! And, they only cost $9.95 each!!! This makes them a great option for Christmas, birthdays, mother's day, grandparent's day . . . or just to brighten someone's day!
I really love this new necklace . . . and highly recommend sugar lane!