Yes, today, February 16th is Almond Day, so I thought along with sharing a tasty recipe for homemade cinnamon almonds, I thought I'd share some history of almonds which I found on-line. Did you know . . .
Originally almonds were grown in Central and Southeast Asia

Today more than 80% of the world's almonds are grown in California

Nearly every ancient civilization used almonds. By 4,000 B.C. people were cultivating almond trees, which blossomed well in the lands surrounding the Mediterranean Sea.

The Bible makes numerous references to almonds as an object of value and symbol of hope.

There are about 25 major almond varieties produced in California orchards

Packed with vitamin E, magnesium and fibre, almonds are one of the most heart-healthy foods on the market

A one-ounce, 160-calorie handful of almonds is an excellent source of vitamin E and magnesium. That quantity also provides 12 per cent of your daily protein allowance. Plus, almonds offer potassium, calcium and iron. Some say they're good at preventing osteoporosis as one ounce or about 20 almonds contain as much calcium as 1/4 cup of milk.

Almonds are also good for your heart, hair and skin!

If you grow up in almond country in California, you will pronounce the word, "almond" without the "l" . . . "am-onds"!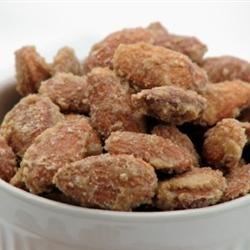 Almonds are a tasty treat and knowing they are good for you makes them even better! One of my favorite ways to enjoy almonds is as cinnamon almonds . . . I shared my
favorite recipe for this tasty treat some time ago . . . you will find it at this
link
! This recipe is very simple - a great recipe to make with your grandchildren and then package up and share with neighbors, teachers, or anyone who you would like to brighten their day!
As you make cinnamon almonds with your grandchildren, be sure to talk with them about how God created everything in the world, including almonds. Spend time thanking God for His many good gifts to us!
However you like your almonds, grab a handful today and enjoy!