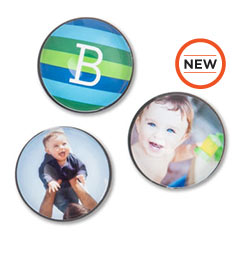 Over the years I've had the wonderful opportunity to review items from Shutterfly. I am a
huge fan of Shutterfly because not only do they give me the opportunity to "make" items for myself and gifts for others with photos of my family on them, but the quality is excellent for the finished items. And, on the rare occasion when something did not turn out, all I had to do was contact Shutterfly and they quickly corrected the problem and sent me another item - their customer service is excellent!
So, as I thought about the items I wanted to review - and give away - for my Birthday Month of special give-aways, I of course thought of Shutterfly! This year I am very happy to share with you three of their new items - and announce a give-away for one of them! First, my reviews . . .
This past August, we had photos taken of our family - my hubby, myself, our daughter, son, daughter-in-law and grandsons. I loved how the photos turned out and have ordered quite a number of things with these photos on them (especially for Christmas). But, since one of the shots turned out so nicely - a photo of my son and his family (the photo to the right is the one I ordered) - I thought it would be wonderful to get a nice, framed photo and ordered the
Hand-Lettered Love
Framed Print
. Keep in mind, with Mother's Day coming up, this could make a great - sure to be loved - gift for the moms on your gift list!
When this photo arrived, I was absolutely thrilled! It is beautiful - of course I think the subject matter is wonderful, but the quality of the photo - amazing color - and the style of the frame all combined for a truly excellent photo! If you have a photo which you are thinking of having printed and framed, absolutely take a good look at this option - easy to order, arrives quickly and looks amazing! You will be happy with it - as will anyone who you might give it to as a gift.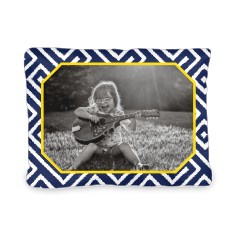 As I looked through the new items Shutterfly offered, I noticed some really lovely Outdoor Pillows - which of course would also add a nice "splash" of color inside as well! I ordered one with photos on both sides (Lively Frame

Outdoor Pillow)

and when I get my new sofa, I will definitely find a place for it on the sofa!
I love how the pillow turned out - I put a photo with my family on it on one side and a photo of the three boys on the other side. Since the family photo is more "rectangular" in shape/size, this pillow was perfect as one side had space for a rectangular photo! The colors are bright and everytime I look at this pillow I smile! There are 18 color/design options and it is really easy to add your photos to make it your own! This would also make a great - and fun - gift for Mother's Day. (This pillow is from Shutterfly's site - not with my photos on it.)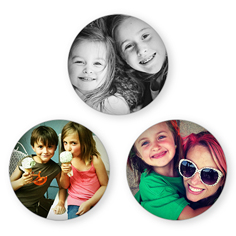 And finally, the give-away! My grandsons often enjoy coloring pictures for me . . . which means, of course, I need to find a place on my
refrigerator for them to be displayed! Shutterfly has some wonderful new glass magnets . . . I chose the
Photo Gallery
because I have three grandsons, so being able to make three magnets - a photo magnet of each boy - was perfect!
The magnets with my grandsons are much bigger than I thought they would be and the colors are bright . . . of course the subjects are perfect! These photo magnets would absolutely make a wonderful Mother's Day gift - combine them with artwork from your grandchildren for a gift any mother will treasure! I love these new magnets and am very happy to say, not only did Shuterfly make a set available for me to review, but they are making another set available for me to give away (USA only)!
The give-away will be on
May 25, 2015, so if
you are over the age of 18
and would like to be in the drawing for the
glass magnets
, please comment below to let me know what you would put on the magnets if you win them!

In addition, you will receive additional entries if you have followed on Google+, Google Friend Connect, followed by liking on facebook with the tab at this link (not just liking the post) and/or have followed grandma's cookie jar by email. For each of these which you have done you will receive one entry. In addition, if you "share" this post, you'll receive an additional entry (please let me know if you share). This will help me be able to draw names from among people who would like to win

the
glass magnets
and it gives you several ways to enter the give-away!