Over the years I've had a wonderful opportunity to share with you some of the great puppets from Folkmanis Puppets . . . and I'm so happy to say they have sent me another box of puppets to review. One of them is part of my Special Birthday Month of Giveaways - the other three will be donated to Caleb's kindergarten classroom in the Fall. So, today I'm very happy to let you know about some new puppets from Folkmanis!
Pelican Puppet
Bleating Sheep Puppet
Koala Puppet
Panting Dog Puppet
Made by - Folkmanis
Favorite Features -
Soft, plush and more than just a puppet!

Realistic design

Attention is given to quality, design and detail - these are wonderful puppets!

Fun creatures - unique puppets

Sheep "bleats" and dog "pants" - adds to the fun!

Encourages imagination!
Folkmanis says; "
Dive in for fun with the Folkmanis®
Pelican Puppet
. Realistically designed with shiny, wet-looking "feathers" and large webbed feet, you'll love the whimsy of her 'swallowing' mouth with a wiggly fish snack attached. Scoop up this hilarious water bird before it flies off store shelves! Yes, you "herd" right; a new
Bleating Sheep Puppet
grazes in Folkmanis pastures. With her sweet, comical face and soft, silvery fleece, this is one puppet 'ewe' will surely love. Animate her mouth as you gently squeeze her body to hear her bleat. A curious creature from down under, the Folkmanis®
Koala Puppet
is a plump and fluffy cuddle buddy ready to snuggle. Animate head, mouth and forelegs as you imagine climbing trees and eating eucalyptus with your new furry friend. Play can sometimes be exhausting, so take a break and catch your breath with the Folkmanis®
Panting Dog Puppet
. With a gentle squeeze to his body and a hand working his mouth, bring this soft and shaggy canine to life in your loving arms.
"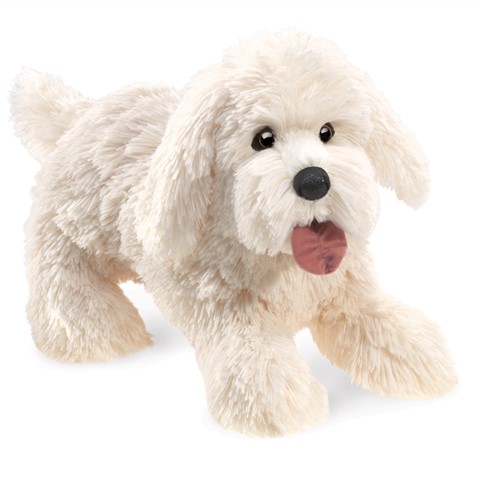 I love puppets! They encourage imagination and interactive play! I also love plush toys - they can be comforting and a stuffed toy often is a "first friend" to many children. Folkmanis combines the two for amazing plush toys which are also puppets! Plus, they often choose unique creatures - like a pelican - to make into puppets, which just adds to the fun! When this box of puppets arrived, my grandsons were here - they gave their enthusiastic approval to all four!
I'm very happy to say the
Pelican Puppet
is the puppet I'm giving away (USA only)!
If you live in the USA or Canada, are over the age of 18 and want to enter the giveaway for the
Pelican Puppet
, (which
will be on
May 31, 2016)
please comment below to let me know a creature you would like to see as a puppet - I think an okapi would make an amazing puppet!

In addition, you will receive additional entries if you have followed on Google+, Google Friend Connect, followed by liking on facebook with the tab at this link (not just liking the post) and/or have followed grandma's cookie jar by email. For each of these which you have done you will receive one entry. In addition, if you "share" this post, you'll receive an additional entry (please let me know if you share). This will help me be able to draw names from among people who would like to win the
Pelican Puppet
and it gives you several ways to enter the give-away!