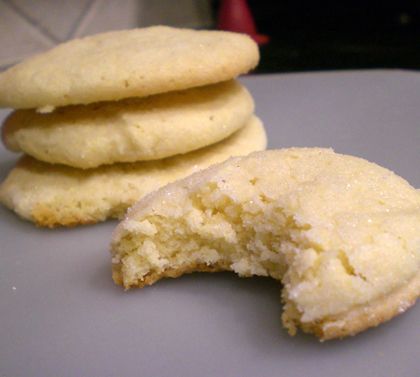 My grandsons are coming over today - they have a teacher's "work-day" at school today, so no school for the boys. One of my grandsons'
favorite cookies is a butter/sugar cookie, so I'm thinking we may make some today . . . because I am grandma :-)
The recipe is very tasty, so I thought I'd share it with you as well.
1 cup of butter - softened

3/4 cup of sugar - I use half brown sugar and half white granulated sugar

2 eggs

1 teaspoon vanilla

1/4 teaspoon salt

1/2 teaspoon baking soda

2 tablespoons green sugar sprinkles

2 tablespoons blue sugar sprinkles

2 cups flour - a touch more if the dough is too sticky
Cream butter and sugar until fluffy, then add eggs and vanilla and mix a couple minutes. Add dry ingredients and mix - the sprinkles are just for fun - use any you have!
Drop by teaspoons onto ungreased baking sheets and bake at 350 for about eight minutes - until golden brown on the bottom and edges and still nice and soft!
Enjoy!