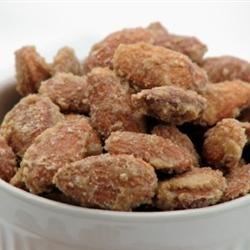 Today I'm very happy to share with you one of my favorite recipes! Typically we may think of this recipe as one we make for the Holidays, but it is fantastic any time of the year. This is my recipe for Cinnamon Almonds!
Cinnamon almonds add a wonderful, tasty touch to any day - and they are easy to make . . . which means they are a fun and tasty item for you to help your grandchildren make for their mom for Mother's Day!
Making cinnamon almonds is very easy - and quick; check this recipe . . .
Ingredients -
1 egg white

1 teaspoon vanilla

1 teaspoon cold water

4 cups whole almonds

1/2 cup sugar

1/4 teaspoon salt

1/2 teaspoon cinnamon
These cinnamon almonds are so tasty! And, as I mentioned above, they make a great Mother's Day gift!