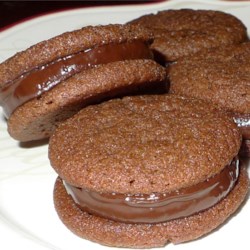 I'm very happy to share Chocolate Mint Filled Cookies by Katherine Persons. Katherine describes her cookies by saying, "Yummy, Yummy, Yummy!" When you try this recipe you are sure to agree with her. Thank you Katherine for sharing with us!
Ingredients -
1 cup chocolate chips

2 cups flour

2/3 cup softened margarine

1/4 cup light corn syrup

2 teaspoons baking soda

1/4 teaspoon salt

1 egg

1 cup sugar

24 small peppermint patties maybe a few more
Directions -
Melt chocolate chips.

Mix chocolate, flour, margarine, corn syrup, baking soda, salt egg and "1/2 cup" sugar until blended.

Refrigerate for two hours.

Preheat oven to 350

Shape dough into small balls, roll in sugar and bake for 12-15 mins.

While still warm place a peppermint patty between two cookies to make a sandwich

Enjoy!
(After they have cooled for a while but still warm I press down on cookie to flatten peppermint patty.)