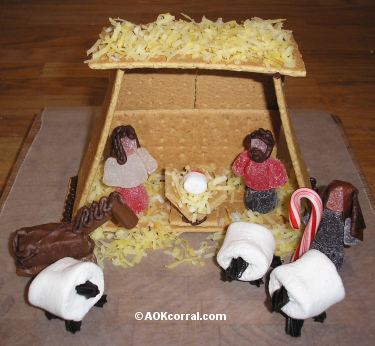 If you are looking for a fun activity for the children you love take a look at this "mock" Gingerbread Nativity set they can build with graham crackers, marshmallows and candies!
I found it on Pinterest, if you follow this link you will find all the directions and supplies you need to get the children you love busy building their own "Gingerbread" Nativity!
As they build, talk with them about why Jesus came and ask them why they think He was born in a stable. Have fun with this craft and be ready to take pictures of the children as they build and with their finished projects!
I do want to say, my grandsons had the opportunity to build one of these at our church, as each year they have a Gingerbread Nativity night the last Wednesday night before Christmas. We found it was really difficult to put it together and my grandsons ended up frustrated. I'd recommend using icing bags, and lots of icing to "cement" your crackers together. Also, expect to have your fingers covered in icing - this is a messy craft.
While the end result can be cool, it is not easy to build - keep this in mind. This does not mean it isn't a project you want to try, but do plan for extra time to build these nativities and keep baby wipes and paper towels handy . . . you will need them!