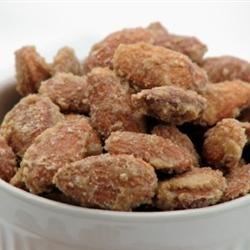 I'm happy today to once again share one of my favorite recipes with you! This is my recipe for Cinnamon Almonds!
Cinnamon almonds are a wonderful treat for any time, but especially during the Holidays, they just add a wonderful, tasty touch to your celebrations! (And, they make a very tasty gift, too!)

Making cinnamon almonds is very easy - and quick; check this recipe . . .

Ingredients -

1 egg white

1 teaspoon vanilla

1 teaspoon cold water

4 cups whole almonds

1/2 cup sugar

1/4 teaspoon salt

1/2 teaspoon cinnamon
These cinnamon almonds are so tasty! And, as I mentioned above, they make great gifts for people on your gift list!